London's No. 1 Dog Walking Agency is coming out in the US in just over three weeks now (July 6th) and it has had some lovely trade reviews…
Review: London's Number One Dog-Walking Agency
London's Number One Dog-Walking Agency: A Memoir by Kate MacDougall (Morrow, $27.99 hardcover, 368p., 9780063059788, July 6, 2021)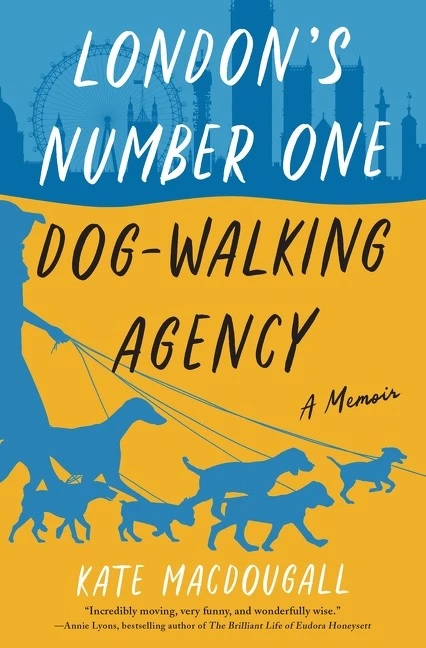 Kate MacDougall, "tall, gangly, butterfingered," may have had the right background, education and qualifications to work for four years at the prestigious Sotheby's auction house in London. However, a comedy of errors propels her out of her less-than-fulfilling back-office job, inspiring her, on a lark, to start a dog-walking business. Enjoyable, easy to read and thoroughly entertaining, London's Number One Dog-Walking Agencyshares humorous, conversational stories of MacDougall serving as a pseudo-matchmaker between the dogs, dog owners and dog-walking employees who shaped her life and her growing business over nine years, starting in 2006.
Met by opposition and belittlement from her mother and some of her peers, who feel her new career is beneath her, MacDougall sets off on an exciting adventure that snowballs through her 20s–through dating, engagement, marriage and motherhood. Her supportive husband is, ironically, scared of and "doesn't like dogs. At all." MacDougall details pivotal experiences, dilemmas and interactions with clients. Some of the dogs are as quirky and neurotic as their owners–and dog-walkers–who, at times, are far more exasperating and difficult to deal with than their canine charges.
There are disarmingly detailed, typed lists of instructions about gluten-free diets and doggie apparel, maps for scenic walks and hectic schedules juggling playdates, pedicures and grooming appointments. Strict orders are delivered for a rambunctious Labrador retriever–owned by his "daddies," a gay couple–who insist their dog not get wet or, heaven forbid, muddy. Walking the dog in rain and through puddles poses panic, and matters grow worse after the couple splits up, entangling the dog and MacDougall in their personal tug-of-war.
There's also the tender transformation of a mysterious rescue, a "hermit" dog, who is not at all interested in dogs or people, but who is interested in food. And the author's own Jack Russell terrier, who undergoes a battle of the bulge. Threaded throughout are additional stories of employees, including one intent on poaching clients and another whose doggie devotion borders on the criminal. Besides the pitfalls of managing the dogs themselves, the 2008 economic recession also threatens the dog-walking agency with closure.
MacDougall's fun, brisk storytelling and cleverly rendered details largely focus on growing, improving upon and sustaining her business. However, philosophical undercurrents profoundly define how work–and canine companionship–can enrich the soul and spirit, ultimately giving shape and form to living a more meaningful existence. —Kathleen Gerard, blogger at Reading Between the Lines
Shelf Talker: A fun, thoroughly entertaining memoir details the unforeseen challenges and rewards of operating an active dog-walking business.